Working on a cruise ship, more often than not you only have about 2-3 hours off work during your day. I try to use my free time to go out and explore. Every port has its hidden treasures and highlights you can sure manage to visit in such short time and I am always on a quest to find some.
So, if you happen to be in Bodø, Norway and are not heading towards Saltstraumen, here is a fun idea of what you can do in the city of Bodø.
read: Buda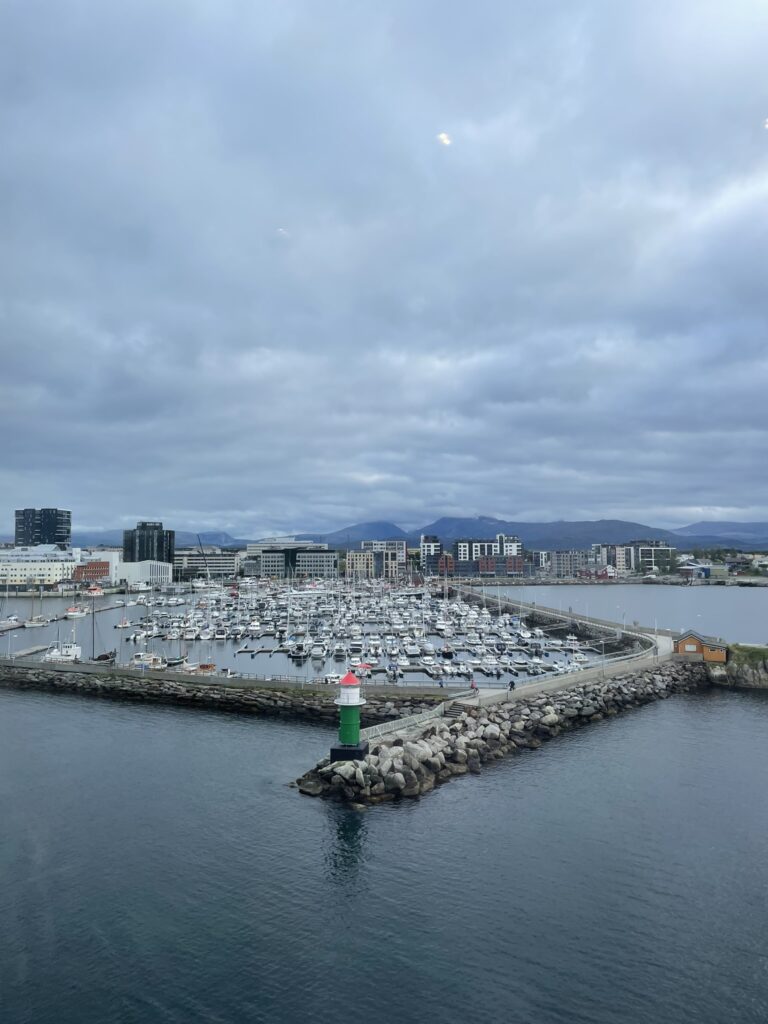 This little city high up in the north of Norway is a popular start point for chasing the polar lights in the winter. In the summer, you will enjoy the midnight sun, meaning that you will have the chance to see the sun just hover over the horizon, creating the most beautiful sunset colors, without the sun actually setting.
But we are here for some other colors, the ones on the walls of Bodø.
Street art in Bodø
On an official Visit Bodø website I found info about the UpNorth art festival from 2015 when artists gathered in Bodø and created many of these murals. (since I wrote this in 2019, the website has been updated and the info as well as locations have been removed).
I had collected the info with all approximate locations and started my quest working through the map. In case you will go on your own quest, just add these addresses to the Google maps and off you go.
"Malstrøm" by David de la Mano
Address: Soløybuilding, Moloveien 20
A swirl of large black men silhouettes on a business building felt kind of symbolic for a "busy day at work". I played this "what did the artist want to say" game all along my quest. It made the search that much more fun.
So now we are off to a parking lot, even more hidden from the main street.
Artwork by Stein
Address – Parking lot on the corner of Dronningens Gate and Torvgata
The stenciled graffiti by Stein shows a young boy being looked upon by two older boys.
I must say it felt a bit freaky wandering around houses and hidden parking lots, but people of Bodø must be already used to it, so it will not look strange to them at all.

But this parking lot is so much more than just this one graffiti. I found a new way of looking at it with graffiti of a curious girl just around the corner.
It was like looking at the clouds in the sky and making my own interpretations and stories.
In this same parking lot you will find a lot of drawings and even the famous Bodø Seagull sign.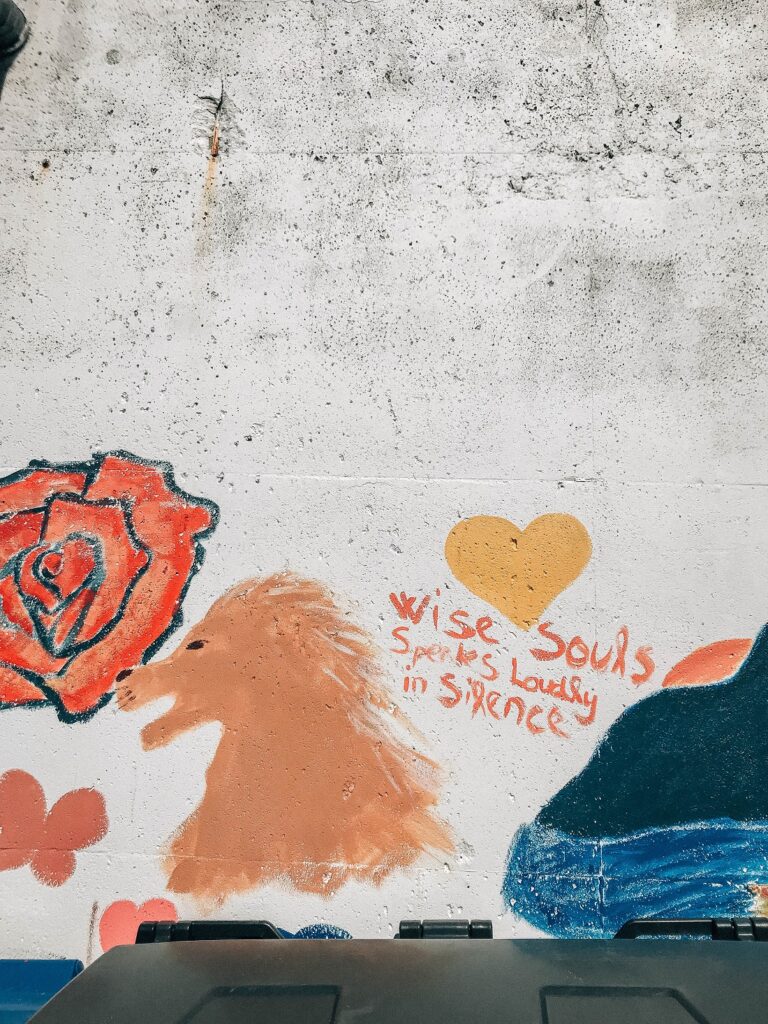 "Insomnia" by Millo
Address: Storgata 30, Tjærandsengården
This is probably one of the most popular murals in Bodø. Named Insomnia, it was once explained to me as a story of white nights in summer, where the sun doesn't set and people have issues sleeping… in an artistic way, of course. I always loved the white nights, but I must add that I sleep in the inside cabin without windows, so I never had issues sleeping during the summer in the north.
The size of the mural is so huge that I decided to make a little self-timer photo with it, to show the comparison. (Can you even spot me on the left photo?)

Since visiting this mural in 2019, someone felt like a balcony has been missing, so this is how it looks like now:
You can find more art from Milo on his Instagram page.

"Butterfly" by Martin Watson
Address: Dronningens Gate 15
Add a bit of colour to your life is how I would call it.
Yet another parking lot graffiti, this time more of a graffiti than any of the previous ones, because it combines a lot of small, colourful letters, signs and scribbles in a form of a butterfly. Very typical for Martin Watson, who often creates everyday black& white forms and adds a colourful touch of old-school graffiti to it.
"After School" by Rustam QBic
Address: Kongensgate 20
The most photographed mural of Bodø is definitely this one. Whoever was walking around the city that day on a graffiti quest, said this one is their ultimate goal to see.
It is the furthest one from the port, but easy to find and very much worth the effort.
It is called "After school" and shows a kid spray-painting Aurora Borealis on the sky. The meaning of it was explained to me as in- The polar lights are sometimes so unbelievably beautiful and magical that those who have not seen them, believe them to be fake, photoshoped onto the photo, just like the kid is doing with a spray paint on this mural. It was a fun explanation so I went along with it.
But it is sort of true. If I had never seen the polar lights, I would also believe them to be exaggerated.

"Buglyful" by Atle Østrem
Address: Storgata 7 C, next to the Berusmel bakery (which I can also advice you to go in to and try their cinnamon buns with vanilla pudding)
Water balloon fight – Ståle Gerhardsen
Address: Storgata 17-22 (parking lot of Datametrix company)
I ran into this fun little balloon fight scene walking to the next famous graffiti. I thought it was worth mentioning as a secret gem nobody talks about, since it was not listed in the official Turist Office list.
I don't think I need to mention – it was also on a parking lot.
Through a bit of research, I found the name of the artist and a few more adorable pieces from him throughout the town.
Need a helping hand? – Ståle Gerhardsen
Address: staircase between Bankgata going on Sjøgata
On my way back to the port, I found this small painting on the wall with the sweetest message. It melted my heart away and completed my loving impressions of the city. (where did that third hand come from though?!?)
Since I loved the style of this artist, I looked him up on Instagram and found even more places he added a bit of his art to.
"Phlegm" by Phlegm
Address: Sjøgata 18
Next to Insomnia and After school, this is the most talked about mural in the city. Very close to the port, this enormous mural is made by a British comic artist. So Phlegm is a detailed graphic painting of a half human- half woodland creature, feeling threatening mostly for its size.
But keep your eyes open because this scene will give you more than just a vision of Phlegm. Inside the parking lot, yet another black & white piece of graffiti is to be found. Outside of the lot, on the concrete fence, next to the dumpster, a little tweeter Bird is surfing Facebook.
There are many more small, seemingly casual pieces scattered all around the city. There is still so much more art I would have found if I had more time. But just seeing how much I have accomplished in only 2,5 hours, I went back "home" feeling like I really used my time well and had so much fun doing it.
UPDATE: Since I visited Bodø in 2019, the city has changed a lot, meaning – some of these murals are now new buildings or construction sites. I went to search for them in 2022 and have missed two of my favorite ones. I still decided to share them in here with you, as they were really a beauty:
"Golden Eagle" by Dzia
Address: Tollbugata 13
not existing any more
Easy to find and easy to notice from afar, the Golden Eagle was right next to the Tourist office. I loved how detailed the eagle mural was. It is just the kind of drawing style that I love to create myself and it looked so enormous and realistic.
During my second visit in 2022, there was a building built right next the mural, not having any sight of it any more.
The next one was one of my personal favourite graffiti/murals in Bodø, also not there on the site any more.
"A kiss between cultures" by Animalito
Address: Sandgata 6
not existing any more
Just an adorable sight, isn't it?
It showed a norwegian Sami and an argentinian child of Andes dressed in their traditional clothes playing with a deer and a llama. I interpreted it as the moment of two indigenous cultures meeting, in the eyes and an innocent art of a child. (if you ask me, this ladder on the wall looks so spontaneously, yet brilliantly placed there)
It was painted in the side-street, a very uncommon place for such beautiful art, a bit difficult to find too, but it drew a big smile on my face once I finally had it in sight.
During my visit in 2022, I found a construction site on the spot of this mural and saw no sight of it any more.
Of course, cities need to keep growing and developing themselves, it did hurt a bit to not have a sight of my favorite mural any more, knowing all of you will never get to see it too.
Note:

I hope you will find the fun in the street art quest in Bodø as much as I did, since this is one of Norway`s most underrated cities, that really doesn`t deserve this title.